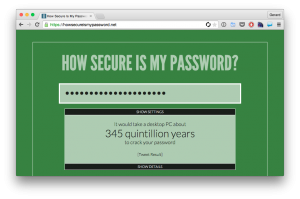 Weet je hoe eenvoudig het is om met een computer iemands wachtwoord te kraken?
Ik heb in een lab opstelling dit zelf wel eens getest met een ZIP-bestand. Eerst beveiligen met een wachtwoord van 6 karakters en vervolgens met een eenvoudig geschreven programmaatje in circa 5 minuten weer open gebroken.
Bijgaande website laat dit goed zien: https://howsecureismypassword.net/
Type daar maar eens een voorbeeld wachtwoord in. Vanaf 10 karakters lang begint het pas betrouwbaar te worden. Daarnaast worden ook alle '123456'-achtige wachtwoorden direct geraden. En denk niet: "Oh, dan doe ik een hoofdletter of het geboorte jaar van partner of kind want daar hebben hackers ook allang aan gedacht.
Ga bewust om met wachtwoorden en geef ze nooit zomaar weg. Het is verstandig om hier wachtwoord beheer software voor te gebruiken.
Google op: wachtwoordbeheer software
Safe surfing!